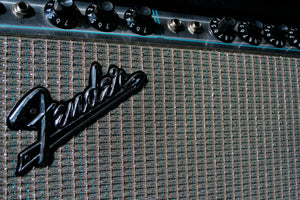 Vibro Champ/Bronco - Silverface Overhaul Kit
Premium Silverface Overhaul Kits
These premium silverface overhaul kits offer everything you need to get your silverface Fender amplifier sounding & performing it's best!!  This is our famous premium overhaul kit.

Premium Overhaul Kits include parts & instructions for:
Full Electrolytic Recap:  (2 x F&T power filters, 1 x MOD power filter, Nichicon for the preamp & power tube cathodes).  Dropping resistors included.
Signal Cap Upgrade (Mallory 150M series standard, Jupiter upgrade available)
Includes Outside Foil Upgrade
Preamp cathode bypass resistor optimization
Noise Fix 100K plate resistors
Power tube resistor upgrade (makes life easier for that 6V6!)
Premium overhaul kits include high quality F&T filter caps.  We are also using a 40uf MOD power filter for the main cap, specifically selected in order to get the perfect value for this first filter stage, without sacrificing sound or performance quality!  All preamp tube cathode bypass & bias caps are high quality Nichicon.
We use only the highest quality 1/2w carbon comp resistors for the signal path & circuit board.  Key locations in the circuit have selected measured resistors – vital to optimum performance.  Flameproof metal oxide resistors for the power supply.  Plate resistors & preamp tube cathode bypass resistors are individually selected to be within optimum parameters.
We prouldy offer "Mallory" 150M series capacitors for the signal/coupling caps.  These caps perform exceptionally well in vintage Fender circuits, providing warm, vintage tone;  GREATLY enhancing the sustain, tone & performance of your silverface amplifier! Top shelf Jupiter Condenser upgrades available.
Copies of the original blackface schematic & layout for your amp are included.