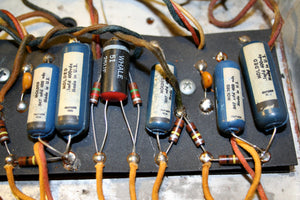 AB165 to AA864 'plus' tweed preamp for BLACKFACE AB165 Bassman
This kit is specifically designed for BLACKFACE AB165 Bassman amps with the Blue 'Molded' signal caps!
It converts the phase inverter to classic AA864 specs (the same circuit as found in the classic blackface AB763 amps, such as the Twin Reverb, Super Reverb, Deluxe Reverb etc). It also converts the Bass channel to a tweed style preamp.
The major bonus here is that you get to keep all of the highly regarded Blue 'Molded' signal caps in the amp!! Doing both the AA864 conversion and tweed preamp mod, you can swap two signal caps from the phase inverter with two from the Bass channel and re-purpose these fantastic caps!!
NOTE: This will also work in the early silverface AB165 amps with Blue 'Molded' caps!
All of our kits contain detailed instructions and diagrams!