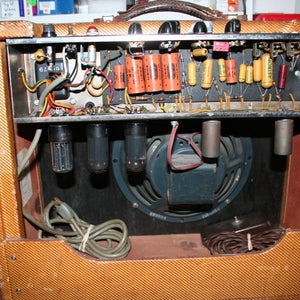 Tweed Preamp Mod
Our Tweed Preamp mod gives you another classic Fender voice at your fingertips!  It's a little thicker and richer than the standard blackface or silverface preamp, with more mid-range emphasis that leans itself towards earlier breakup and 'beefier' tone.
Easy to perform, and very effective.  Do this mod in one channel of your two channel Fender, and it's like having two different amps in one.  Very handy if you use different guitars with different pickups, play different instruments, or just want a different tone at your fingertips.  We use Mallory 150M series or Jupiter 'Vintage Tone' caps in these kits. If you have reverb in both channels (or no reverb), you can use both channels at the same time for an extra fat gain boost!  Works great with an A/B/Y switch!
Please note: If you are modding the bass channel of a Bassman head, the deep switch is already wired as a "boost" and will be more effective paired with the tweed mod.  An upgraded boost cap will be included in the silverface kits.  For blackface bass channels, that blue "molded" cap is the best you can hope for – keep it in there!
Bassman 10 amplifiers have different preamp circuits.  The 'Bass Studio' channel will be compatible with the 'Bassman Normal Ch' kit.  The 'Bass Normal' ch on the Bassman 10 is it's own unique circuit and we do not offer mod kits with instructions/diagrams specific to this channel.