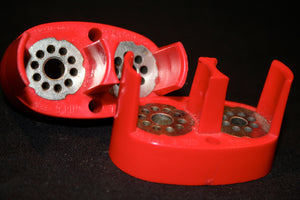 NOS Tube Pin Straightener
We have a limited supply of these NOS tube pin straightners. Made in the USA in the 1940's. These pin straightners are invaluable tools for the beginner & expert alike, and have saved us literally hundreds (if not thousands) of dollars by preventing broken preamp tubes & fixing bent tube pins!
Anyone who has ever tried to insert a preamp tube into a vintage Fender knows how tricky it can be and how easy it is to bend the tube pins and/or crack the glass of the tube trying to straighten the pin with pliers!
Designed for 9-pin preamp tubes such as the 12AX7, 12AT7, 12AY7, etc.Also compatible with 7 pin tubes such as the 6AQ5/6005.
This is one of the most useful shop tools we've ever come across!  Well worth the cost of a single tube when you consider how many tubes can be rescued with this tool! Straight pins also help keep your tube sockets well tensioned.