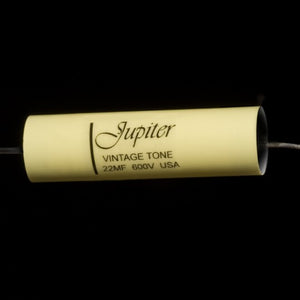 Jupiter "Vintage Tone" Signal Cap Upgrade Kits
In our opinion, Jupiter "Vintage Tone" premium signal caps are by far the best sounding current production capacitors for vintage Fender amplifier circuits. We have searched far & wide for caps that come close in tone & performance to the old blue "molded" caps of the blackface Fender era. Jupiter "Vintage Tone" capacitors came out on top! These caps are HIGHLY RECOMMENDED as top shelf upgrades for silverface Fenders, or as proper replacements for tweed, blonde, brown, or blackface amps (but only if the original Astrons or blue "molded" caps are damaged or missing)!
REAL rolled mylar & foil rolled capacitors, made in the true vintage style!  Not spray-on 'metalized poly' like most modern production signal caps!

Rated at 600VDC or 400VDC in select locations/applications. 
Again, these caps are recommended as upgrades for silverface Fender amps, or replacements for blackface amps if the original blue 'molded' caps are missing.  We do not at this time offer signal cap kits for tweed or brownface amps.  Signal caps for tweed and brownface amps need to be ordered a la carte - as singles!
If you want to add the TWEED PREAMP mod to the first channel of your two channel amp, just add the 'SUB TWEED PREAMP MOD' to your order for $5!  This gives you the parts (caps, resistors and instructions) to install the tweed preamp INSTEAD of the stock components for your first channel!  Instructions for adding 'reverb in both channels' is also included!  This will be for the 'normal channel' in most two channel amps, and the BASS channel in Bassman amps!
Jupiter "Vintage Tone" caps come with their outside foil already marked at the factory. MADE IN USA!!
Vintage Fender Amp Repair is an official distributor of Jupiter Condenser capacitors.